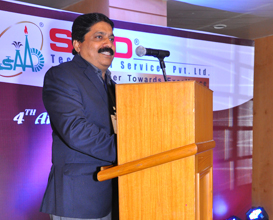 Mr. Dilip Shashikant Parab is the Managing Director of SAAD TECHNICAL SERVICES LLP. His prolific personality and established experiences assures ascending positive growth for the corporation. His varied career includes erection and commissioning, overhauling repair maintenance of oil and gas field, petrochemical and fertilizer plant. He is also in charge of carrying out preventative, planned and annual shut down maintenance.
Mr. D.S.Parab has a Diploma in Mechanical Engineering, which explains his detailed tryst with companies dealing with oil & gas, petrochemical, fertilizer, refineries and other mechanical field of professions. Mr. D. S. Parab's former employment as a Rotating Equipment Specialist with SPIC-SMO fluently highlights his exceptional experience and unique credentials. Rotating Equipment Specialist is a position which requires intricate knowledge about the oil & gas industry. During his term at SPIC-SMO, Mr. Parab was also in charge of reconditioning various equipments like turbines, compressor rotors, machining of various components and providing a dynamic balance to a wide array of rotors.
With an experience of 27 years and specialization in rotating equipment field, Mr. Parab has served innumerable companies in India and abroad with diverse designations. His extensive experience spreads across continents in companies like, KNPC, PIC (Kuwait), TASNEE (Saudi Arabia), Gulf Petrochemical Industries Companies (Bahrain), Indo Jordan Chemicals Co. Ltd (Jordan) and Notore (Nigeria). He has also acquired hands on experience of successfully revamping and commissioning fatty acid plant & fatty alcohol plant of Pan Century Surfactant INC. at Jose Panganiban, Philippines.
His expertise has also been utilized to help grow Indian companies like, ISPAT IND (Alibaug), RCF (Thal& Mumbai), BPCL, HPCL (Mumbai &Vizag), ISRO (Mahendragiri), DFPCL (Taloja), Herdilla (Mumbai), Kribh Co (Hazira), Reliance (Hazira & Patalganga) and various offshore platforms of O.N.G.C. Mr. Parab has played an important role in the complete overhauling of steam turbines, centrifugal compressors, reciprocating compressors, various types of pumps and gear boxes with companies like, Elloiott (Ebara Group) Caterpiller (Solar Turbines), Siemens, BHEL, Coppus, Dresser Rand, Hitachi, Delaval, NuovoPignone, Ingersol Rand, MAN-GHH C.P. Tool Dresser and BHEL. Mr. Parab has also attended the shut-down of IFFCO-KALOL, IOCL, GNFC (Gujarat), Deepak Fertilisers, BPCL, IGPL (Maharashtra), HPCL (Vizag) & SPIC (Tuticorn).
He is also familiar with the various safety systems and scheduled checks of firefighting equipment's on platforms. Mr. D.S.Parab is uniquely positioned to impact the organizations' productivity and long term success. His powerful vision helps in bringing purpose to promote productive, healthy and meaningful work cultures.